Testimonials from Young Living Customers & Brand Partners that they have experienced in their journey.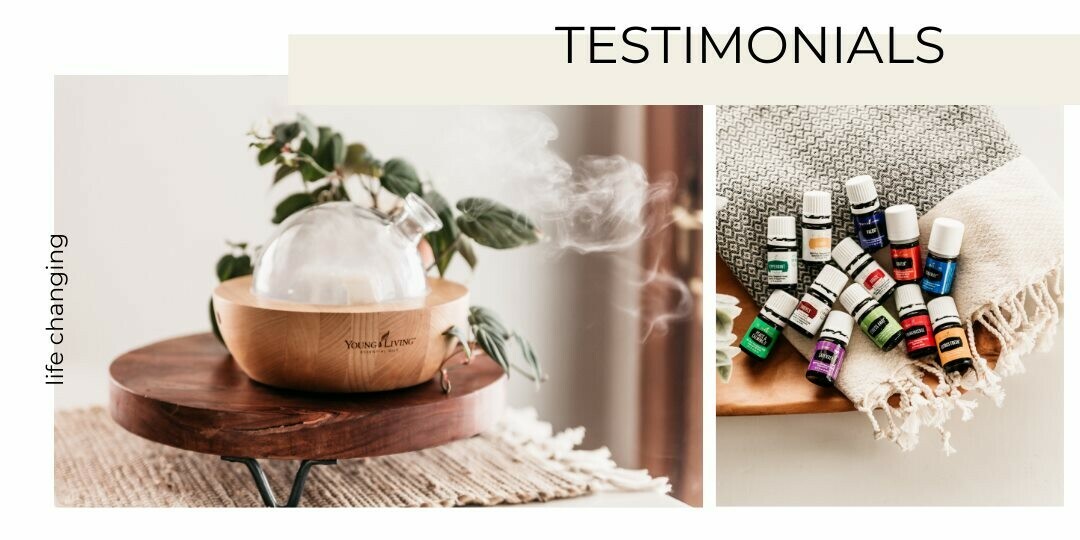 I personally got them because I wanted my house to have a warm, welcoming, cozy, memorable Sense of smell! And because I always wanted a diffuser but NEVER GOT ONE! until a friend showed me hers. I gave in the smell of Thieves and Citrus Fresh had me SOLD!!! Coming up on my 1 yr. I truly appreciate how much I have benefited not only for myself but my family and visitors. I learn something NEW EVERYDAY! And to know that I am slowly changing to a non-toxic life for myself and family is so rewarding!!
- Luisana V

Peppermint essential oil was my "ah-ha" product that allowed me to feel very empowered as a mom to help my daughter when she was home from school.
- Paige K.

One of my very favorite things... Several years ago I fell on black ice and messed up my arm. After a a few surgeries, I became very aware my body does not like anesthesia. I proceeded to loose hair that was already fine and thin. I went short to try and camouflage the lack. After joining the oily life I came across the recipe for "Mermaid Spray"!! I've been using it for about 4 years and although my hair is still fine I was able to grow it out and I get new hair all the time.
- Lori L.

For me, it is the lifestyle that I am grateful for. I am enjoying a natural lifestyle, based on better choices and Young Living products. I feel better today at 66, than I did at 50!
- Candice B.

Pretty sure my eyesight has gotten better just from drinking NingXia Red everyday ❤️ can't wait until my next eye appointment to find out for sure!
- Sharon N

I'm a PTSD & mTBI (mild Traumatic Brain Injury) Survivor & Anxiety Warrior — my body doesn't agree with all today's fast paced synthetic world of pop this pill & that pill. My neurologist tried so hard to find the right Med for me that wouldn't make my life worse. It was a huge fail. I discovered YL & now I support my brain, my body & my emotions with natural tools. I was so happy to say good bye to all my Alzheimer's Meds that hated on me. And oh boy, I love feeling calm in my own skin instead of one of my 'life-is-just-too-much' right now episodes.
- Michelle H

I got started when my kids were just toddlers struggling with skin and sleep issues. Both of my boys had terrible bleeding and itchy skin and were on prescription steroid creams that had a list of side effects a mile long. I was searching for a more natural option that worked to stop the itching and bleeding without the side effects. I had heard of oils before but it was not until we were having these big skin issues did I really look seriously at YL because I knew their quality was the best out there. It didn't take long and we realized lavender and frankincense could help their skin the same way the steroid creams were without the terrible side effects. We also started looking very hard at the chemicals that we were putting on their skin and a whole new world of non-toxic living opened up for us! I absolutely could not believe something as simple and natural as oils would change our everyday lives. I was shocked. The rest is history, haha!
- Sara H

Several years ago about 6 months after getting my PSK I was working on a project on my sofa. It was sorting some paperwork. At the beginning, the way I was sitting did not bother my knee. I was nearing the end of the big box of papers and my knee started hurting. I toughed it out until I was done. The next day it still hurt. Three weeks later, it still hurt. I'm not sure if I had insurance to go to a doctor.
Then it hit me, I've got essential oils. I started slathering Panaway on my knee a few times a day. I did this for about three days and the pain was gone.
- Terry W

Successfully lowered pressure by using aroma life over heart and drinking Ningxia Red.
- Larry H

My 15 yr old had surgery to repair a bucket meniscus tear from a dance injury. She's been using the 600mg C B D and taking 2 BLM 2x/ day for support with great results. She has used other pain relief methods only very minimally. She has struggled to sleep because surgery, and her knee brace is on 24/7. ImmuPro has helped to support healthy sleep patterns beautifully! She's also using Genesis as the area around her leg has been incredibly dry.
- Valerie G

This may be a small example, but when you have young kids, getting them to sleep so you can sleep is key - and we all know that can be a challenge when they have stuffy noses from colds/sickness or teething. We put a couple drops of RC on our hands and rub it on their crib sheets. Any excess gets rubbed on the front of their jammies (or on my shirt/chest if they're nursing). It keeps their noses clear so they don't wake up front not being able to breathe well. It's always what I recommend to other parents complaining of sick/teething kiddos.
- Libby G

Whenever my kids get sick, we do the raindrop on them (just less drops) and it wipes out whatever bug they have going on.
- Crystal H.

My husband has to renew his CDL every year and he has that white coat syndrome. So I read that Ningxia was great for lowering blood pressure. He's been on Ningxia for two weeks now and has been monitoring his BP daily. It's has been going in the right direction. Let's see how he does on his follow up on the 26.
- Janet H