Mar 1, 2021 12:05 AM Central
Jenifer Parris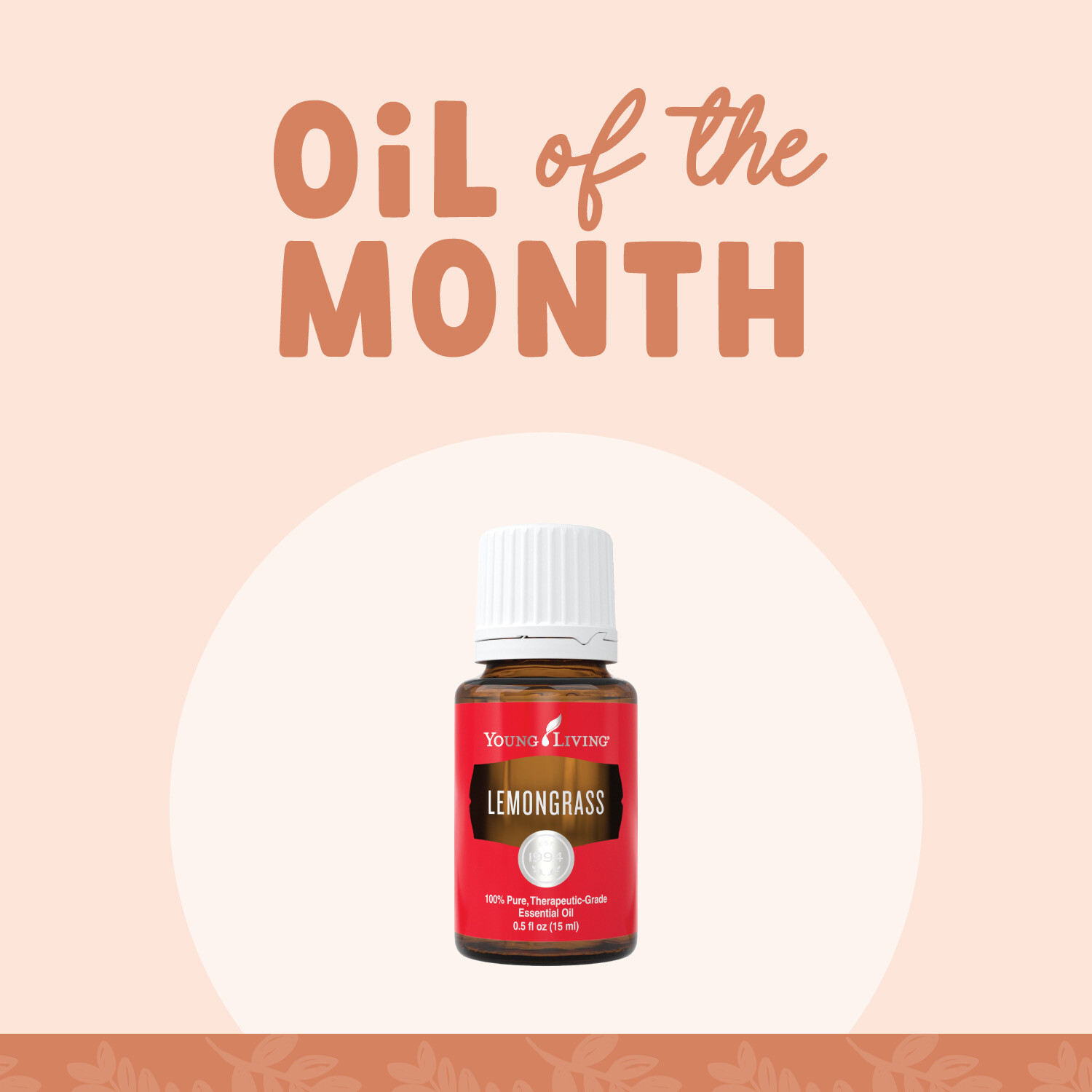 Create a healthy wellness routine and refresh your home for spring with Lemongrass!
Each month we focus on using an oil every day to help us in accomplishing our goals. Join us in choosing a method of application and simply getting this oil on and around you every day in March! My goal is to use up an entire bottle for my personal use!
LEMONGRASS AT A GLANCE:
Includes the naturally occurring constituents neral, geranial, limonene, and beta-caryophyllene
Has skin-cleansing properties
Enhances massage after activity
Purifies the air from bad odors
Reduces musky aromas in moist, damp environments
BACKGROUND: Lemongrass recalls exotic locales and warm winds and adds a subtle scent of citrus to the air, making it one of our favorite springtime oils! Lemongrass belongs to the Poaceae family, the flowering plants known as grasses. The plant is native to Southeast Asia, South America, and other tropical locations where warm, moist climates encourage its growth. It is distilled from the leaves and woody stalks of the lemongrass plant, and it produces a subtle citrus-herb scent. Lemongrass has a sophisticated and relaxing aroma that can transform your home's environment into a comforting sanctuary!
LEMONGRASS & EMOTIONS by Eryn Jones: Lemongrass is a wonderful oil for the "shoulds" and "expectations" we so often feel, whether they are real or perceived. 9s feel these in their gut. Rubbing lemongrass or DiGize over the abdomen or diffusing Lemongrass can help release them and focus on their own needs and wants. (Side note: this can often physically manifest as actual stomach discomfort and these oils can help with that too!)
LEMONGRASS & SKINCARE:
Use lemongrass as a spot treatment for blemishes. You can also make your own T-zone toner with this simple recipe:

2oz glass bottle
10 drops Lemongrass
5 drops Lavender
Fill with Witch Hazel

DIY Lemongrass Sugar Scrub: The citrusy scent of lemongrass is super uplifting, and the oil itself is actually really good for your skin. This simple sugar scrub recipe is perfect for your hands, lips, and body, helps soften skin and is super moisturizing. Massage this concoction gently into your skin to get rid of dry and rough skin, leaving your skin super soft and hydrated.

1 cup sugar
¼ cup olive oil
3 tbsp raw honey
10 drops lemongrass essential oil
In a mixing bowl, mix together sugar, olive oil, honey, and essential oil until well blended. Store in an airtight container until ready to use.
DAILY HABITS WITH LEMONGRASS:
Add a few drops of lemongrass to dryer balls for the freshest smelling laundry!
Make your own substitute for chemical-based air fresheners. To a 2oz spray bottle add 10 drops of lemongrass, a splash of witch hazel, and ill with water. Spritz it over carpets, furniture, and linens to eliminate stale odors!
Adding 3–4 drops of lemongrass to a sink full of dishes, a load of laundry, or Thieves Household Cleaner for extra oomph and a wonderful, uplifting scent!
Add lemongrass to an epsom salt bath and/or use for a post-workout massage to ease and support tired muscles.
Reach for lemongrass for sleep support! Throughout history it has been used as a sedative and a tool for anxious thoughts, so it's the perfect addition to your favorite sleep roller. Try this recipe: In a 10 ml bottle add:

10 drops Lavender
10 drops Orange
5 drops Lemongrass
Top off with carrier oil. Apply to wrists, back of neck, temples and feet.
DIFFUSE: Diffusing is a wonderful health habit! We have our diuser going almost 24/7 and love to choose blends that are supportive of individual needs or systems. Try some of these great combinations for a green spring home!
A Midsummer Night's Dream: 5 drops Citronella, 3 drops Geranium, 2 drops Tea Tree, 2 drops Lemongrass
Apple Pie: 4 drops Cinnamon Bark, 2 drops Lemongrass, 2 drops Grapefruit, 2 drops Bergamot
Lemon Bars: 4 drops Lemon, 4 drops Stress Away, 2 drops Lemongrass
ALSO FOUND IN:
DiGize essential oil blend
En-R-Gee essential oil blend
Inner Child essential oil blend
Purification essential oil blend
Ortho Ease massage oil
Tell me below....have you ever tried Lemongrass?